TAKING CHARGE: EVERY WOMAN'S ACTION GUIDE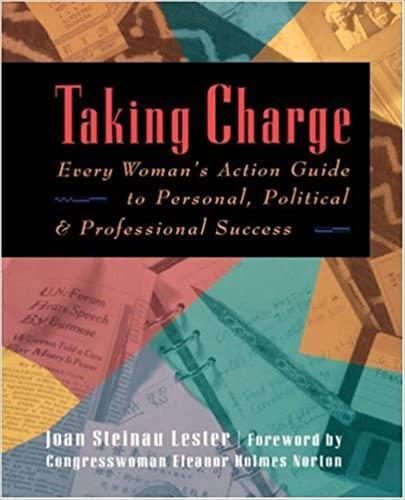 How many times a day do you say "I'm sorry?"
"Lester's book...shines in its practical strategies for women to achieve recognition."
Publisher's Weekly


"Lester's tome of 'feminist coping strategies,' peppered with humorous, helpful anecdotes, provides a lively jump-start to goal setting and attaining."
Ms.
In one concise and enjoyable volume, Lester gives women what we always thought the 'old boy network' gave to men: She offers personalized feminist strategies for clearing away internalized baggage and finding the power within. Whether you're CEO of the company or an assistant to the CEO, it's time to take charge!
"Lester treats the bread-and-butter issues of career and life-goal-setting with unusual thoroughness. The choices posed by real-life situations are dissected with a clear-eyed focus."
Executive Female
"Author Joan Steinau Lester is determined to put women in the driver's seat of their personal, political and professional lives. Using engaging anecdotes and practical how-to's, she has constructed a rather quirky "owner's manual" for a woman's life...Indeed, Lester, cofounder of the Equity Institute, a Berkeley-based consulting agency on diversity strategies, is a virtual Ms. Goodwrench of self-realization."

Susan Tifft, author of The Patriarch: The Rise and Fall of the Bingham Dynasty