FIRE IN MY SOUL: ELEANOR HOLMES NORTON
Foreword by Coretta Scott King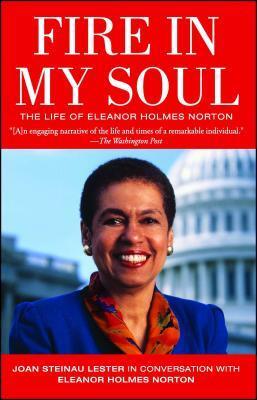 Showcases the many facets of Congresswoman Eleanor Holmes Norton, who remains an iconic torch-bearer for the Civil Rights and Women's Movements.
Fire in My Soul shows Norton marching on the Capitol to demand a Senate hearing for Anita Hill; arguing before the Supreme Court to uphold first amendment rights--even for a segregationist; and battling for her hometown, Washington D.C., "the last colony in America."
"Fire in My Soul is a richly detailed and personal portrait...Read it to be inspired."
Marian Wright Edelman
"An engaging narrative of the life and times of a remarkable individual."
The Washington Post
"Fire in My Soul has the content and wonderful writing to make one thoroughly thrilled...This is history, which reads like a fluid beautiful novel."
Arise Magazine
"Norton is an inspirational figure to us all. Hers is a truly fascinating story, and I am delighted that Joan Lester has chosen to tell it in such an engaging way."
Henry Louis Gates, Jr.
"Eleanor Holmes Norton's compelling biography is the story of a true American original."
Charlayne Hunter-Gault
"No person has been more crucial to the cause of free speech and civil rights than Eleanor Holmes Norton. This fascinating book is the story of one remarkable woman's journey to a distinguished career, spanning some of the most critical years in American history. I couldn't put it down."
Vernon E. Jordan, Jr.

" I am glad that I am a woman during the same time that [Norton] is. She makes me proud of us."
Maya Angelou wrote of Fire in My Soul

"Just when you're ready to pack up the House of Representatives and ship them to Bazookastan, along comes a reminder that some among them actually strive for social justice—such as that rare bird Eleanor Holmes Norton. A well-framed memoir, satisfyingly candid while also abrim with political theory: a filigreed work that maps Norton's evolution as an advocate for human rights."
Kirkus Reviews

"The roots of Norton's activism are easy to discern in the proud and loving portrayal here of her ancestors, fugitive slaves who fashioned a life in Washington, D.C. The importance of family--a theme Norton will return to again and again in her career--is seen as she describes the importance of her mother and father....'a black man insisting in every way you could find upon your dignity.' Lester's thorough portrait is a compelling and inspiring homage to a legacy still in progress."
Publisher's Weekly
"Extraordinary…very solid narrative."
Black Issues Book Review